Overview
GreenBox is a comprehensive, secure platform to manage the complete operations of special inspection, materials testing and geotechnical/environmental engineering companies.
The solution includes integrated modules for prospecting, dispatch, field reporting, timesheets, document delivery, CTR, tensile, lab, project closeout, and calendaring.
It is built on a robust, scalable infrastructure and is available for a low monthly per-user fee.  All data stored centrally in a secure, integrated database.
Administrators and in-office personnel use a rich Windows-based application for daily operations, while inspectors use Web browser-based platform, accessible from PCs and mobile devices.
Track status, client, type
Dates for submittal, followup, project start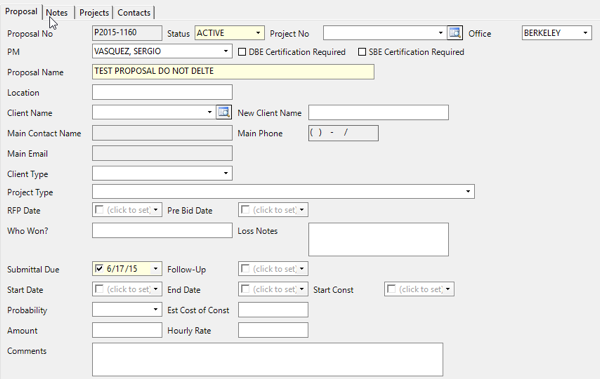 Clients and Distributions
For clients, centrally track address, name, phone information
Distributions are anyone who receives information related to a project
All information about a distribution are stored in one place
Distributions include project managers, owners, inspectors, and reps
All project information stored in one place
Locations (onsite and offsite)
Detailed contract information, including basis of charges
Associated proposal, contract, and T&I documents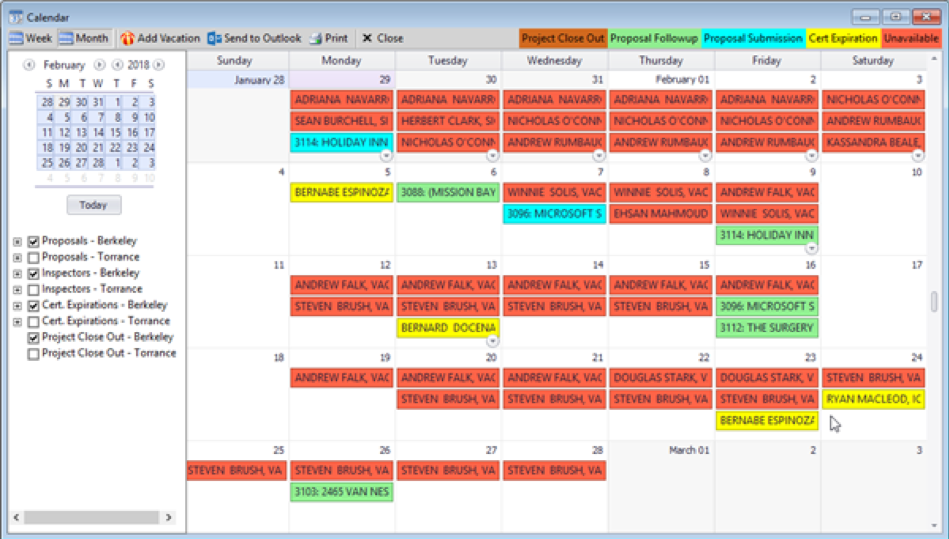 All data stored digitally
Forms can be fully customized
Time entry done directly on forms, populates timesheet
Forms can include pictures/signatures
Can attach other documents (PDF files) to report
Can email directly upon report submission
Reports available immediately to distributions
Conforms to DSA and OSHPD reporting requirements
Tracks non-compliances, see when and how resolved
See previous work done on project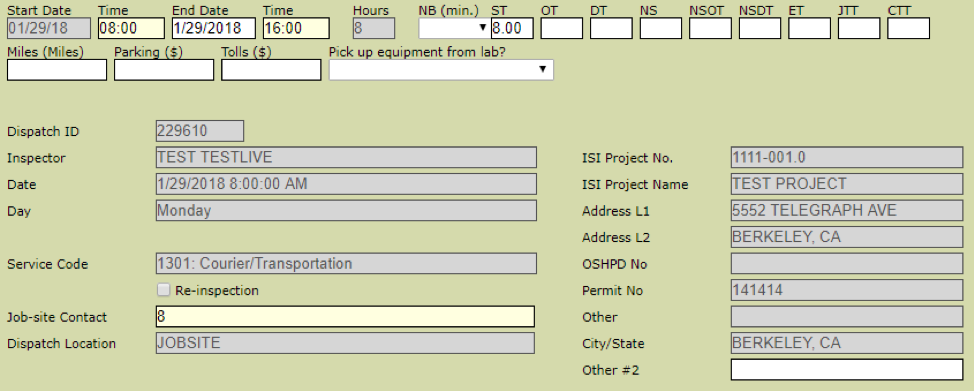 Find inspectors by availability, qualifications
Dispatch for a range of days
Email all dispatches to inspectors, track responses
Email includes Google Map link to dispatch location
Can attach internal documents which are omitted from customer reports
Single-click to generate weekly reports, which are reviewed online by PMs
All digital report distribution is automated, including Web and email
Reports delivered via email and/or web, depending on preferences
For web access, all reports available: field, CTR, lab, weekly, NCRs

CTR
Data entry
Calculations
Report generation
"Daily CTR" list of all breaks for the day
Lab Reports
Review of soil and asphalt compression tests
All types of lab reports are distributed using same mechanisms as other reports
Can attach related documents (both client and internal)
All data accessible in Microsoft SQL database
Data can be queried and reported on using standard tools, including Crystal Reports
Data can be exported, either manually or automated, to external systems (accounting, other vendors, etc)
Implementation and Pricing
Implementation can be Cloud-based (Google, Amazon Web Services) or using existing server environment
Future upgrades and enhancements included
Full customization available
Price is $95 per user per month
Users are either administrative or inspectors
Customer users (distributions) are free